Danny Ray Heath
January 12, 1969 - August 02, 2021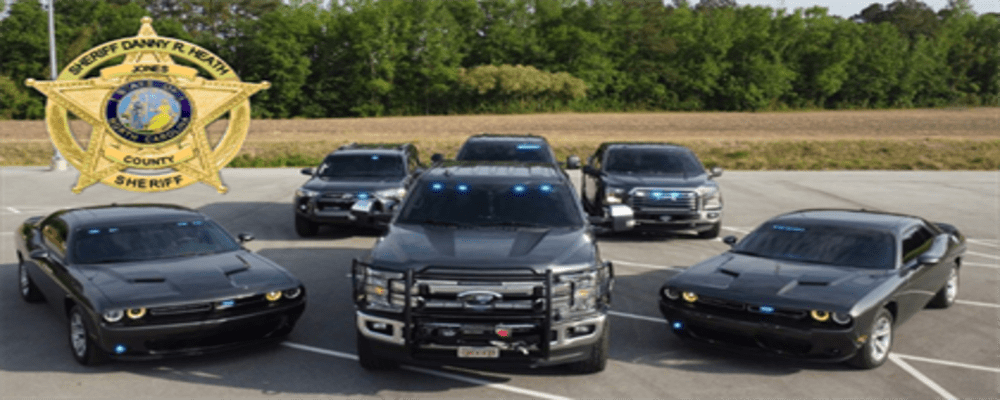 Obituary For Danny Ray Heath
As an exceptional servant of the law, holding the post of Jones County Sheriff since December 6, 2010, Danny relentlessly stood in fortitude, displaying strength of mind that enables a person to encounter danger, bear pain, or face adversity with unapologetic courage. His career afforded him the opportunities to display unparalleled leadership in extremely demanding situations from brutal and taxing cases, multiple natural disasters, and the devastation and recovery of Hurricane Florence. With deep family roots in Jones County, every call and every case was personal to Danny. The character and integrity of the man beamed obvious in every small and large task. For the citizens he protected with all of his might, he was a giant and will remain a legend. Danny never forgot or took for granted that he was chosen by the people to serve the people and he held his post with pride, honor, and strength with his every breath. He was grateful to be trusted by the people of Jones County. He absolutely personified and gave true valor to the definition of a "working Sheriff" and required nothing less of his team, his blue family. While the world knew the man of the badge, the man behind the badge was keenly aware that he was no greater than the family that shared him with his passion to serve. They were the pin that held the badge in place. He protected and respected their love most of all. Danny boasted of the wife he adored and more than 35 years of loving they shared. Danny met Cheryl Raye Smith when they were 16, at Jones Senior High School. They were married in 1989 and together they established a family. Their children, Cheridan Raye Heath and Dylan Ray Heath, brought them endless joy. The family circle that Danny enjoyed began with his mother, Gayle Spence Moore and Gerald Heath and Grandparents: Bernice Spence and Frederick and Ruth Heath. As the years went by, Danny was loved by his bonus mom, Abbie Heath and his late bonus dad, Ernie Moore. He fondly regarded his siblings: Jamie Heath, Tonya Magrath (Mark), and Alicia Mejia (Brian) and he cherished the memory of his brother, Stevie Moore. When Danny and Cheryl married, he inherited parents by love Ray and Brenda Smith and brother, Mickey Smith (Dana). Danny was friends with Johnnie Hill since age 5. They were brothers and faithful confidants throughout the years. He considered Buddy and Joyce Miller as bonus parents by choice. Throughout his life, he was surrounded by many aunts, uncles and cousins from his Spence and Heath heritage, as well as the Banks and Smith families, nieces Summer Heath and Miranda Smith and his nephews Jamie Noah Heath, Jr, Brady Smith, Garrett January, Troy Mejia and Nash Magrath, and great-nephew Raiden McCall. It is often said that a person who has one loyal friendship in their lifetime is blessed beyond measure. Together, Danny and Cheryl were gifted with several that have decorated their lives continuously: Jeff Driver, Beth Jones Chadwick, Lauren Heath Simpson, Amber King, David & Gloria Mills, Taffy Jones, Billy Taylor, Polly Mason, Renae Banks, Zack & JoAnn Koonce, Jill & Tom Wooten, Lucille Tyndall, Jay Luker of the US Navy, his USS KIDD DDG 993 Shipmates and Joy Cooke Wynne. The ever-loyal Blue family that served side by side with our Sheriff and shared his love are: Matt Wineman, best friend of fourteen years Jim Bateman, John Ervin, Leila Groom, Daniel Pridgen, Timothy Corey, Chris Langley, Anthony Taylor, Brandon Miller, Mike Grant, Josh King, Todd Frankson, John Rochelle, Javaris Johnson, Jason Sharpe, Alex Cole, Andrea Fahy, David Thompson, Kim Gwynn, Jason Jarman, Pete Danza, Kim Foy, Alfredo Diaz, Misty Jones, Cobie Whaley, Daemon Rand, Stephanie Hall, Latonya Green, Patrick Raynor, and Carl Baugus. Danny Heath was a Navy Veteran of Persian Gulf/Desert Storm and Desert Shield, member of Masonic Lodge Zion 81, Scottish Rite, Sudan Shriners, and North Carolina Sheriff's Association. He sat on the Jones County ABC and SECU Boards. He received his Advanced Law Enforcement Certification and was awarded Probation Officer of the Year in 2007. Many referred to Danny as their best friend and he truly relished in his treasure of friendships. There are infinite accounts of great relationships, both personal and professional. In reality, he couldn't possibly count all of his blessings. He had a good life all the way. Danny lived and breathed by his words, "Zero Tolerance" and "Justice is Coming". Both good and faithful, his job was well done. Having seen his good works, when Danny napped on August 2nd, 2021, Heavenly Father dispatched JC-1 and Danny answered the call beyond the blue, to work for a greater purpose. He is Signal 50. His legacy reaches beyond this world into Paradise and he would want us all to continue to hold the line until we 10-25 his location. The family of Danny Ray Heath express their eternal gratitude for the abundance of love, support, and encouragement during this very difficult time and for the years of trust, confidence, and comradery throughout his years of service. You, his people, have proven that every memory and moment was worth the journey. They recognize that you share their sadness and pray all experience peace that passes all understanding in this season. May you live in purposeful abundance, every day.
A Celebration of Life will be held on Sunday, August 8, 2021 at 2:00pm at The Jones County Civic Center, 832 North Carolina Hwy 58, Trenton, NC 28585. The family will receive friends following the service at the Civic Center. The formal Celebration of Danny's life will begin with a procession from Comfort Fire Department to Jones County Civic Center at 1 pm on Sunday prior to the service. The public is welcome to observe along the route with shows of love and support. We ask everyone to remain on the shoulder of the roadway to allow safe passage and observation.
The procession will be aired via Live Stream at https://www.facebook.com/jonescountync.gov as it passes through Trenton, NC and the Celebration of Life will be available via Live Stream at this same link.
To share Memories and Condolences with the family, please click on the "Share A Memory" tab.
Photos & Video
Add New Photos & Video
Condolences

For older obituaries, please visit our obituary archive by clicking on the button below.